Josh grew up in Nashville, Tennessee and graduated from Baylor University. After serving as a police officer in Baltimore for three years, he earned a Master of Divinity from Gordon-Conwell Theological Seminary. He came to Three Village Church in September 2013 after six years at Shelter Rock Church (Lead Pastor, Manhasset Campus) in Nassau County. Josh and his wife, Kim, have four children.
Lauren was born and raised in NJ and came to faith in Jesus as Lord in elementary school. She attended Wheaton College then transferred and received her biology degree from Taylor University (Upland, IN).. She and her husband, Keith, moved to Long Island in the early 1980's and have grown to love its beaches and its people, in spite of the traffic (and high taxes!).
Lauren worked in pharmaceutical and laboratory equipment sales for 30+ years, during which time she completed her MS and MBA degrees.
Lauren's passions include loving God and loving people...especially 2 sweet little boys in Oregon!
Katie was born and raised on Long Island. She graduated from Suffolk County Community College with her Associates degree in Human Services. Her and her husband recently got married August 2020 and both love sharing the Gospel with those they meet. She has a heart to help others and to fill in the gaps when there is a need.
Katie loves to travel and explore new cites, baking for others and loves to play a good game of softball.
Intern Children's Ministry Coordinator
Dani was born in Taiwan and grew up at The Stony Brook School as a faculty kid. She was raised in a Christian home as the fifth of six children. Dani spent her high school years as the head of Sunday School. After graduating she became the Director of Children's Programs at the school. Dani loves to bake and do art and play with children, but most of all she loves leading them to Christ and helping them to create a strong foundation in the Gospel. In the past year, Dani has volunteered in Sunday School at 3VC, where she also met her now-husband, Daniel Gift.
With her free time, Dani loves to go to the beach, paint and draw, and do anything related to Harry Potter (which she has read 20+ times!)
Interim Youth Ministry Coordinator
Kyle has lived on Long Island his entire life and is an alumni of 3VC's youth program himself. Kyle has a passion for serving the church and has been involved in serving on multiple ministries here at 3VC for the past 10+ years. Kyle has a Bachelor's degree in Music Education from Five Towns College and his current full time job is as a supervisor at a day program for adults with autism. With his free time Kyle enjoys going to the movies, reading comics, hanging out with friends and watching the Jets and Mets (even when they lose). "
Worship Ministry Coordinator
Heather grew up in the Midwest in a family of musicians and has been involved in church music for as long as she can remember. She graduated from Taylor University with a degree in English Ed and taught in the US, China, and Germany. She came to Long Island in 2009 and has been part of Three Village Church ever since.
Heather and her husband home-school their three young children, who, on any given day, can be found making up silly melodies, reading lots of books, and exploring the world together. Heather loves good chocolate, exploring, and thrifting.
Interim Growth Group Coordinator
Daniel was born in Boston and grew up in eastern Pennsylvania. After finishing his bachelor's degree at Princeton, he arrived on Long Island for a PhD program in physics at Stony Brook. Daniel has been serving in the Pre-K classroom on Sundays and loves playing games with kids. Outside of the church, Daniel enjoys science outreach, playing clarinet, and rock climbing.
Missions and Outreach Coordinator
Ralph grew up on beautiful Long Island. As he grew in his faith, he started to serve at Three Village Church on the Facilities Team. Then, he volunteered as a Sunday school teacher until taking on his current role as the Missions and Outreach Coordinator.
When not busy with ministry activities, Ralph fully enjoys impacting peoples' lives in his occupation as a chiropractor. Some of his favorite things are hockey, golf, the beach, good company, a great joke, and a fun adventure.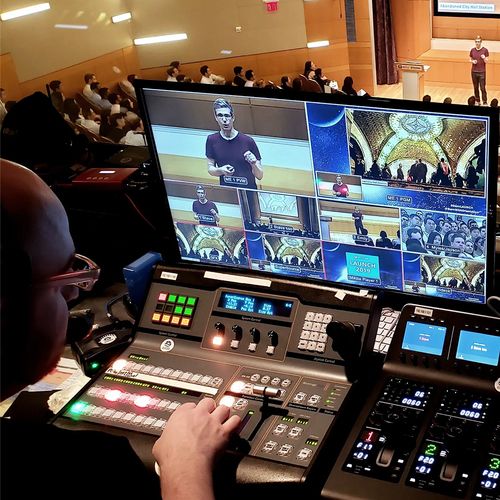 Jon is a technical director with over a decade of experience producing and editing media projects for a diverse range of clients; from fashion brands and large corporations to tech companies and food startups, from global non-profits to local churches. A Long Island native, he grew up attending and volunteering at Three Village Church. When he's not in the control room directing a live event you can find him reading a book & sipping locally-roasted coffee or spending time with friends around late-night bonfires.